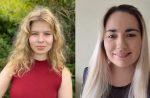 This month we are delighted to welcome Nicole Orr and Ella Schad as members of the group. 

Nicole graduated from the Computing programme at Dundee, and has been working as annotator and sometime developer in the group since just before she started her undergraduate degree. She joins us as a Research Software Engineer working on a number of our annotation tools and the infrastructure that supports them.

Ella has been working as a part of our annotation pool for over a year, and joins us to start a PhD in linguistic models of argumentation, in which she will also be working on aspects of theory development and methodology.