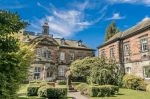 The Centre for Argument Technology has secured several new research funding successes in the areas of enhancing participatory democracy, protecting privacy, countering disinformation and supporting the work of the intelligence community. As a result we currently have four new vacancies:
– A Research Project Manager at Grade 7 or 8 (£34,308 to £51,805 + 21% superannuation), depending on experience. This position is open to candidates with a PhD in *any* field (www.arg.tech/2022PDRA05).
– A Postdoctoral Research Associate in computational models of dialogue at Grade 7 (£34,308 to £42,155 + 21% superannuation; www.arg.tech/2022PDRA04).
– Two PhD studentships open to candidates from anywhere in the world with full scholarship plus stipend (www.arg.tech/2022PHD04) in argument analysis, mining, representation, navigation, manipulation and visualisation.
Closing date for all positions is 20 November 2022. Details on how to apply can be found at arg.tech/vacancies. Enquiries should be addressed to the director of the Centre, Prof. Chris Reed at chris@arg.tech.